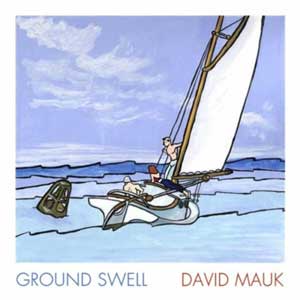 David Mauk (2010) – Ground Swell
Released: May 18, 2010
1. Dawn In Pennsylvania 4:27 $0.89 
2. Summertime 3:56
3. Ground Swell 4:44
4. Chop Suey 4:26
5. Second Story Sunlight 3:44
6. Western Motel 5:04
7. Chair Car 3:43
8. Queensburo Bridge 4:07
9. Seawatchers 4:35
10. Cape Cod Evening 3:39
11. New York Movie 4:13
12. Railroad Sunset 4:38
13. Gas 4:11
14. Drug Store
Note that the package includes a DVD also, this review is only of the audio CD.
An excellent compilation of songs equally suitable for Ambient and New Age soundscapes.  David has captured, on some of the compositions, a more classic New Age sound reminiscient of some of the better sounds out of the 1980′s and 90′s, with some of the more ambient selections evoking some memories of early Tim Story, Ray Lynch, Iverson & Walters, and similar early electronica ambience.  This is certainly not meant to imply that the music sounds dated or old, it is meant as a compliment and invitation to those that still enjoy the early ambient new age sounds (as I still do).  My picks from this album are:  8. Queensburo Bridge; 6. Western Motel; 10. Cape Cod Evening; 12. Railroad Sunset; & 13. Gas.  Ground Swell provides a pleasing listen all the way through.  All 14 tracks are suited to New Age programs, my picks for Ambient soundscapes are tracks 3, 5, 6, 7, 10, 12 & 13.
Background From the artist (from amazon.com):
Hi, I'm David Mauk, the composer for the Ambient/Electronica/New Age CD, "Ground Swell", 12 songs and 5 videos inspired by the art of Edward Hopper. (The physical album contains a CD for the music and a DVD for the videos). This is the follow-up to my first CD, "12 Months", featuring the song "April (rain)". I also composed the official background music for the current National Geographic Exhibits about King Tut and the search for Cleopatra.
I began this CD with the idea of 'musicalizing" different paintings by the artist who awakened to me the beauty of Art. I was on a vacation when I first saw the painting "Cape Cod Evening" while walking through the Smithsonian, and I knew I had to learn more about Edward Hopper and his paintings. What I really like about them is that they almost seem like a story frozen in time, with clues to what might be happening lying all around the frame of the composition. I wanted to explore what these different paintings might "sound like".
After I completed the music, I realized I had the opportunity to make some videos using period footage from the same time Hopper was painting America in the mid 20th century. So, I took 5 songs and edited the appropriate black and white footage from the period and came up with another view into the universe I discovered with the music. "Summertime" accompanies footage from Coney Island presenting a nostalgic look at the amusement park experience. "New York Movie" reveals an intimate video portrait of movie icon Marilyn Monroe, "Dawn in Pennslyvania" explores the struggles of Pittsburgh workers and families during the Great Depression, "Chop Suey" shows the whimsical side of newsreels from the period and "Queensboro Bridge" captures the building of the Bay Bridge in San Francisco and Oakland with some eye-poping camera shots that are truly breathtaking. 
==================================================